Virtual Aleph Champ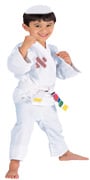 The Aleph Champion Program© is on the cutting edge of Hebrew reading today. Modeled after the Karate/Martial Arts motivational system, it works by dividing different reading skills into levels defined by color. Students understand that their teacher is a black aleph champion and their goal is to reach that level.

Due to the worldwide pandemic, Aleph Champ practice is now done through personal Zoom sessions with an experienced Hebrew Reading Tutor. Our experience has been very positive with this transition, and the children are progressing quickly while having fun with reading games and activities during their sessions.
Zoom sessions are set up on the weeks that CKids in person Judaic classes are scheduled.                           Meeting time is personalized so that it is convenient for both the teacher and student.